Light aircraft crashes in field in Blackwater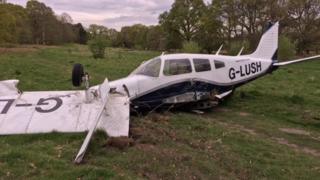 Two people have walked away unharmed after the plane they were travelling in crashed in a field in Hampshire.
Emergency services were called to the crash off Minley Road in Blackwater just before 17:30 BST on Sunday.
Police said the light aircraft was understood to have taken off from Blackbushe Airport when it ran into difficulties.
Photos of the aftermath show the four-seater Piper Warrior's wings detached from the fuselage.
The Air Accident Investigation Branch (AAIB) is investigating.