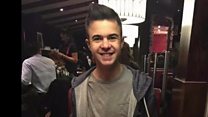 Teenager's Facebook birthday video goes viral
20 March 2017 Last updated at 11:30 GMT
A video posted online by a disabled teenager has been viewed more than three million times on Facebook.
Lewis Hine, who was diagnosed with a brain tumour aged 17 months, created the video to celebrate his 16th birthday.
The Portsmouth teenager has undergone more than a dozen brain surgeries since his initial diagnosis.
Lewis said: "I put the video together as I wanted people to know that everyone has challenges in their lives and we all face them in own unique ways.
"My illness and disability is a massive challenge and, although it may define the length of my life, it won't define how I live it."