Asda sorry for 'Isle of White' shopping bag gaffe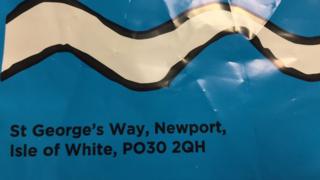 The opening of Asda's first store on the Isle of Wight made an impression for all the wrong reasons after special bags produced to mark the occasion included the spelling "Isle of White".
The retailer opened the doors to its Newport store on Monday and offered shoppers the chance to buy 10,000 bags designed by two island children.
Bosses obviously did not check them properly as they included the mistake.
Asda said it was "hanging our heads" and promised to get the bags reprinted.
More on this story and others from across the south of England.
A spokeswoman said: "This was a genuine printing error and we're in the process of reproducing the exclusive design to get back on sale as quickly as possible.
"We're hanging our heads for making such a silly mistake on our bags for life for our new Isle of Wight store."
You might also like:
The error attracted the ire of islanders on social media with one user using the hashtag #RetailFail
While Isle of Wight Radio tweeted "Isle of What?"