'Confusing' Gosport road sign blamed for 999 delay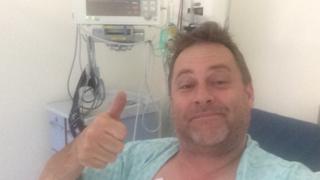 A heart attack victim has said he nearly died because a paramedic could not find his house due to a confusing road sign.
Derek Collings said he fell unconscious after making a 999 call from his home in Gosport, Hampshire, on 20 May.
He said a first responder told him she had left the scene three times because she believed she was in the wrong road.
South Central Ambulance Service said it was investigating. Gosport Borough Council said the sign would be changed.
Mr Collings, 47, was mowing his front lawn when he fell ill, but he managed to call 999.
He said he heard a siren approach and then leave his estate three times, while an operator wrongly told him the ambulance had arrived.
He said: "I was screaming at her. I thought I was going to die. I could feel myself fading away and there was nobody there."
Mr Collings said he was grateful for the "dedication" of the first responder who eventually entered his open front door.
He said she told him: "You've got a sign in your garden saying Dandelion Close, and you live in Honeysuckle, so I just turned away looking for another one."
Following the drama, Gosport council initially turned down Mr Collings' request for a modified sign but later relented.
Council leader Mark Hook said: "We've given this issue a lot of thought and we are prepared to be flexible on this occasion.
"With hindsight we should have come to our conclusion earlier."
Mr Collings said he would be "able to sleep at night" thanks to the authority's decision.