New plastic £10 note featuring Jane Austen to be revealed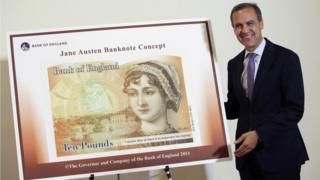 The full design of the new plastic £10 note will be revealed by Bank of England governor Mark Carney at Winchester Cathedral on Tuesday.
The note, which follows the polymer £5 note into circulation, is likely to be available for use in September.
It will feature a portrait of Jane Austen and is being launched on the 200th anniversary of her death.
A limited supply of a new £2 coin honouring the author has also been put into circulation by the Royal Mint.
The coin will initially only be available in tills at key locations in the Winchester and Basingstoke areas that have connections with Austen, including Winchester Cathedral and the Jane Austen House Museum.
It will be circulated more widely across the UK later this year.
Animal fat
The coin was designed by Royal Mint graphic designer Dominique Evans, who said: "I imagined Jane Austen's framed silhouette as if it were in one of the houses featured in her books, on the wall of a corridor as guests passed by to attend a dance, perhaps in Pride and Prejudice, or on the wall in the home of Emma."
The £10 note will be made of the same material as the £5 note, which means it also contains some traces of animal fat – an issue which caused concern for vegans and some religious groups when it was launched last September.
A petition to ban the note attracted more than 100,000 signatures but the new £10 will again contain some tallow, which is derived from meat products.
A new polymer £20 is due to be issued by 2020, but there are no plans to replace the current £50 note, which was released in 2011.
The Bank of Scotland unveiled the design of its new plastic £10 note at the end of May.
Featuring Scottish novelist and poet Sir Walter Scott alongside The Mound in Edinburgh on the front and the Glenfinnan Viaduct on the back, it also has a picture of a steam locomotive hauling a heritage tourist train.
The note is due to come into circulation in the autumn.