Ryde Harbour luxury yacht destroyed by fire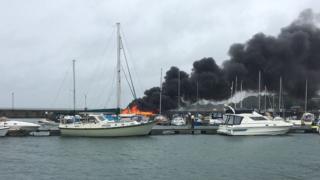 A luxury yacht has been destroyed by fire at a harbour on the Isle of Wight.
One person has been treated for smoke inhalation after the 30ft (9m) Sunseeker vessel caught fire in Ryde Harbour at about 13:30 BST.
The yacht is now sinking and the pontoon where it was tied up will need replacing, the fire service said.
There are reports the smoke plume can be seen from Binstead village, about a mile away, on the outskirts of the town.